Are you considering a Queenstown wedding but not sure how you'll be able to plan it all from afar?
Don't worry, we got you! The Queenstown Wedding Association is a directory of local wedding talent, a helpful wedding planning blog, and an inspirational wedding gallery. Consider us your one-stop-shop for all things Queenstown and wedding related. Planning a destination wedding can be daunting, but we're here to relieve the stress and ensure you have the Queenstown wedding of your dreams! Here are some wedding planning tips to help you create your dream destination wedding in Queenstown…
1. SET A WEDDING BUDGET (AND STICK TO IT!)
Set yourself up for Queenstown wedding planning success by budgeting for your big day. Think about who is paying for what, consider the size and style of your wedding day, and decide on your "must-have" versus "nice-to-have" elements. Then, do your research to find your favourite Queenstown wedding vendors and how much they charge. This way you know exactly what you want and what you expect to pay from the beginning.
Pro tip: You can use the Queenstown Wedding Association Directory to research the best Queenstown wedding professionals and find the best fit for your wedding! 
2. LEARN THE LEGALITIES
The legal side of your Queenstown wedding may not be romantic, but at least it's really easy. You'll need to first apply for a a New Zealand Marriage Licence online, and then you'll receive your New Zealand Marriage Certificate through the post following your wedding day as proof of marriage. If you're travelling into Queenstown from overseas, also be sure to check any further requirements in other countries where you may wish to use your New Zealand Marriage Certificate. An Apostle to further authenticate your documents can also be easily applied for online.
Pro tip: The marriage license application process is super simple and all online – your celebrant or wedding planner will walk you through the process to ensure all the boxes are ticked before your big day!
3. WEDDING PLANNING FROM AFAR
Don't panic if you don't have eyes and ears on the ground here in Queenstown, pick wedding vendors who you trust and then let them do what they do best! There are also lots of ways to stay connected to the wedding planning process, like taking a virtual tour of your venue, receiving cake samples to your door, or video calling your videographer. If you'd rather a more hands-off approach then book a local wedding planner to take on all the organisation and coordination. Remember that wedding planning doesn't need to be stressful, especially when you have the right team on your side.
Pro tip: If you've got the time and budget, you can even book a wedding planning holiday to Queenstown! Take some time to walk through your venue, taste local wines, check out accommodation options, have a dress fitting, or even book a hair & makeup trial with your stylists.
4. CHOOSING YOUR WEDDING VENDORS
The right Queenstown wedding crew can be the difference between a crazy and exhausting wedding or an exciting and stress-free experience. But how do you choose? You can check out photos, watch videos, read reviews, scroll through their social media profiles, peruse their blogs, give them a call, flick them an email, or send them a text or DM. 
Pro tip: You can access all of these useful tools for each Queenstown Wedding Association member on their profiles. Plus, save your favourites to your own dashboard to easily compare options.
5. WEDDING PLANNING AND WHEN TO BOOK
Queenstown is a stunning wedding destination all year round and the most popular wedding providers take bookings up to 2 years in advance! So, it's never too early for you to check the availability of your preferred Queenstown wedding vendors. However, since Covid-19 we've also noticed a big trend towards more last minute weddings and we love the spontaneity. Whether you're planning years, months or just weeks in advance the best way to secure your favourite Queenstown wedding suppliers is to contact them asap to check their availability. 
Pro tip: You can easily contact all our Queenstown Wedding Association members directly from their profiles to check availability and pricing.
6. PLAN A QUEENSTOWN WEDDING-MOON
Queenstown not only provides a breathtaking setting for an unforgettable wedding day but also a honeymoon amongst the surrounding lakes and mountains. And the best part? You can choose to enjoy it all with your friends and whānau, or opt for an intimate elopement for just the two of you. Either way, you're guaranteed to create wedding memories that you'll cherish forever. From lazy brunches and relaxing spa days, to adrenaline-fuelled adventures or grounding hikes in nature, you will have plenty of options to keep busy in the days surrounding your wedding. There are also some great community events that are worth aligning your wedding with, like the waterfront New Years Eve celebrations, Arrowtown Autumn Festival, LUMA Light Festival, Winterfest, or even the Queenstown Marathon.
Pro Tip: We recommend creating a suggested itinerary for your guests who would like to come early / stay late and explore Queenstown together!  Check out the Stay & Play section in the Queenstown Weddings directory for great suggestions of places to stay & things to do with your wedding guests. 
7. MAKE SURE YOU'RE PLANNING YOUR WEDDING
It's true that weddings are all about bringing two families together, but they can be easily become all about pleasing everyone else. So, make sure you and your partner are the priority when planning your Queenstown Wedding.  In addition to gathering with your guests, make sure you both book a quiet moment that is just for you two to enjoy.  Don't worry about making a grand gesture about it, just be sure to carve out some time in your wedding itinerary to celebrate your love, just the two of you.  A popular option is breaking away between your ceremony and reception with your wedding photographer/videographer for some "you" time. You could also opt to have a "first look" before your ceremony, make sure that you grab the first photobooth photo together, or ditch the guest list and elope in secret.
Pro Tip: If you both love the mountains, make sure to add a helicopter flight or a hike to a mountain to enjoy a picnic with a view. Or, how about booking yourselves into a luxury accommodation a day or two before your guests arrive so that you can enjoy each others company before the festivities begin.  Or, our personal favourite, a post-wedding spa date where you can both unwind and relax as newlyweds.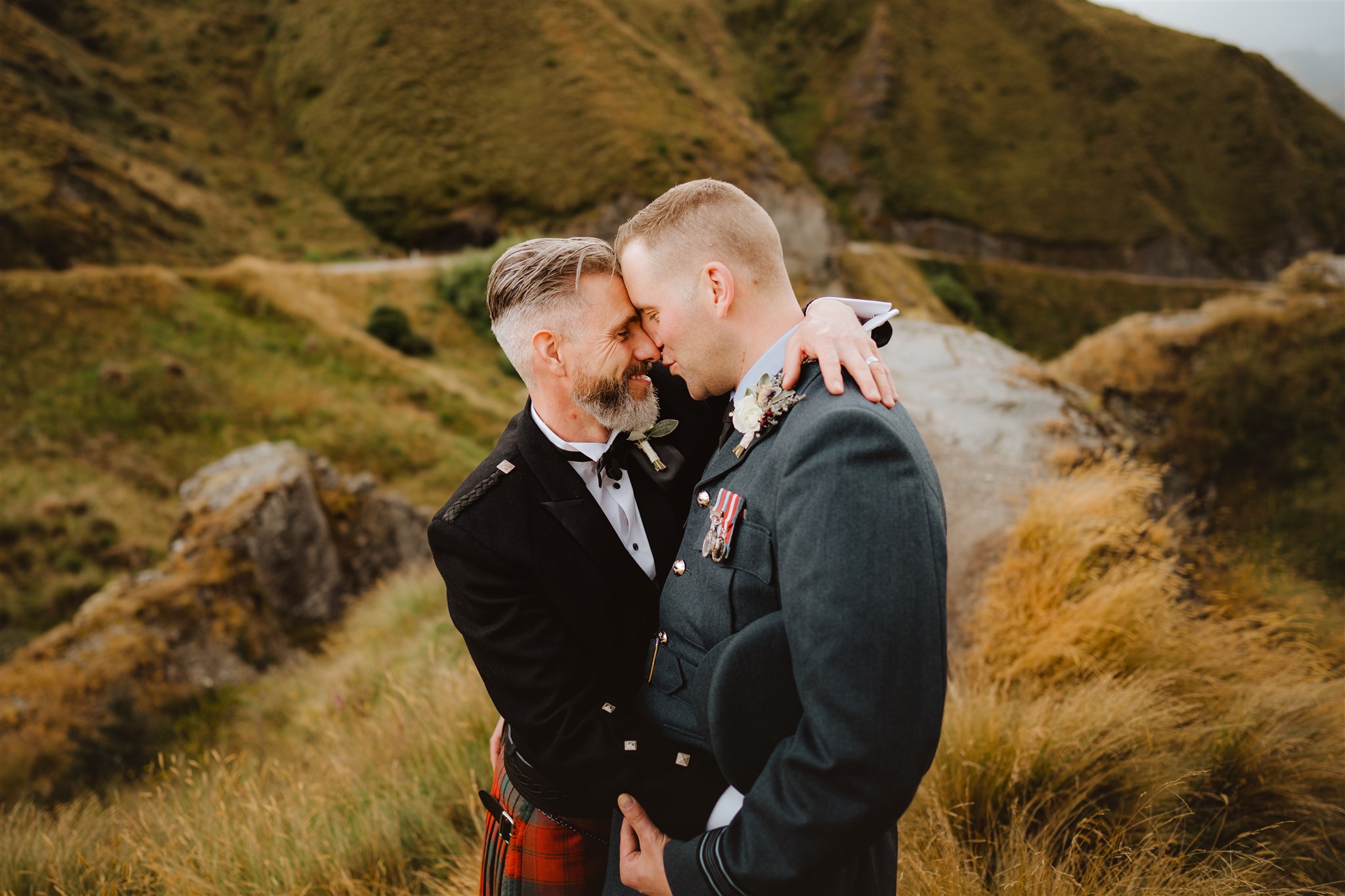 ---
So, are you feeling ready to get started planning your Queenstown wedding?
Remember, you can find all the Queenstown wedding suppliers you need for your big day right here in our online directory. In each listing you'll find photos, videos, contact info, and reviews from real couples just like you. Create an account with us so that you can an easily shortlist your favourites to your own dashboard – we promise no spammy emails!!
For extra help consider a Queenstown wedding planner or read 5 Reasons To Book A Queenstown Wedding Package
THANK YOU to our talented photographers who contributed to this blog: